RJH Surveying provides comprehensive residential building surveying services throughout Hampshire and West Sussex.
We supply residential Home Buyer Surveys (Level 2), Building Surveys (Level 3) and RICS compliant open market valuations for Help-to-Buy purposes.
Our advice is honest, impartial and based on our extensive experience within the residential property sector and our knowledge of the local areas.
We provide a friendly service tailored to your specific needs or concerns. Following the site inspection, we will speak to you and provide a summary of our findings with a report arriving shortly after.
Our reports are informative, easy to follow and provide clear guidance towards remedying any defects identified, including the need for any further investigations or additional specialist input.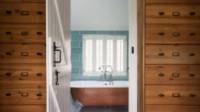 A Building Survey (Level 3) is ideally suited to larger, more complex, older, extended or higher value homes. More comprehensive descriptions of construction and defects. Explanations of how to go about rectifying defects. Consequences of not carrying out repairs. Understanding potential defects that could be present.
A Level 2 Survey report format is designed to reflect the condition of a traditional property that is more modern, of standard construction and not too big or complicated. Includes many features not found in other, similarly priced surveys, such as - Clear colour-coded condition ratings for quick identification of the important issues - Multiple photographs and diagrams, helping you understand your new home - A jargon-free report that avoids many of the annoying caveats and exclusions often found in home buyer reports - A full debrief from the surveyor who will answer any questions you may have.
RJH Surveying undertook a Home Buyer Survey on a new property that I was purchasing and from the very first telephone conversation right through to delivery of the Report itself, Richard was nothing but professional, informative, full of knowledge, willing to give advice and any enquiry I raised was responded to swiftly. It was a pleasure doing business with RJH and I would not hesitate to recommend their service and would definitely use again if the need arose.
We contacted Richard following research to engage him to represent us in our intention of purchasing a property. We managed to find a property and put in an offer. We ask Richard's advice regarding the property. He did a quick search on the buildings approval permissions and also looked at the property pictures and details of the conversion. Based on his research it highlighted some significant and potential problems which may have an impact for future selling. This placed us in a position to be able to assess the suitability of the property and the failings of the developer who obviously rushed to make a quick profit. As we are retirees and this would have been our forever home, it helped us in our decision to withdraw our offer and saved us a whole load of stress and potential heartache. A 15 minute discussion with Richard saved us £425,000 !! Phew!!. We are glad we did our research and came across Richard and we would highly recommend him to anyone looking for an extremely honest and very professional surveyor.
I would 100 percent recommend RJH Surveying, Richard spent time on the phone to me before carrying out the survey on my bungalow and then phoned me the day after he had completed it. He explained in depth his findings and answered all of my questions that I needed to ask. After he sent me the report I received another phone call with more helpful information.
It's refreshing to have a company go above and beyond. Excellent service and I'm very happy that I choose Richard to carry out my home buyers survey.
I highly recommend Richard. I recently contracted him to complete a survey on a property I am in the process of purchasing. He was extremely helpful and professional. His service was excellent, from talking me in detail through the service I would receive and then bringing forward my survey when an opportunity arose. I particularly appreciated the detailed conversation the day after the survey where he explained the findings in simple terms. It is an anxious wait for the survey results and this helped allay my concerns. His report was very thorough for a home buyers survey and easily understandable. Thank you Richard. I would use you again. Hopefully not too soon though!!!
Thank you for our report, we are really pleased with it and the level of detail hasn't gone unnoticed. Being a first time buyer is exciting but also daunting so thank you Richard for making this part so straightforward. I studied conveyancing last year and the relevant parts of your report actually made more sense than my law textbook! Seems my exam would have been easier had I have bought a house first! I will be sure to pass your details onto any family/friends looking for a surveyor. Definitely recommend.